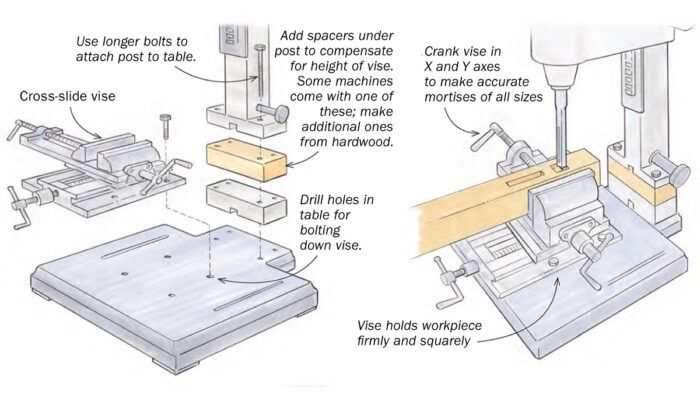 I've been frustrated by the existing fence and hold-down system on my hollow-chisel mortising machine. It works, but often forces me to add clamps to keep the workpiece stable. And the clamps have to be untightened and repositioned after each square hole I cut. Also, I have to reposition the fence to create mortises that are wider than my largest bit.
I solved these problems once and for all by adding a machinist's cross-slide vise to the mortiser. The vise holds workpieces firmly and accurately, and can be moved in the X and Y directions by turning two large handles.
First I removed the standard fence and hold-down on my mortiser. Then I drilled holes in the cast-iron table, and bolted down the new vise so it was beneath the mortising bit and square to the mortiser's table.
The vise steals 5 in. of plunge capacity from the mortiser, but I added most of that back by placing spacers under the post. One is cast iron, which came with the machine as an accessory, and the other is a 1-3/4-in.- thick, shopmade maple block. If you lack the accessory spacer, you can simply make a thicker hardwood block. Either way, you'll need longer bolts for attaching the post to the base.
The cross-slide vise is a simple fix for a frustrating problem. Now I can create perfect mortises of all sizes, in far less time than before, and I look forward to the process.
—MICHAEL CHAPMAN, Stilwell, Kan.
Illustrations by Dan Thornton From Fine woodworking issue #301
Sign up for eletters today and get the latest techniques and how-to from Fine Woodworking, plus special offers.