Blog
A new home for Mark Sfirri's "Rejects from the Bat Factory," a Bandsaw Bash hosted by the Center for Art in Wood, and a new release from Next Wave CNC.
Oct 18, 2022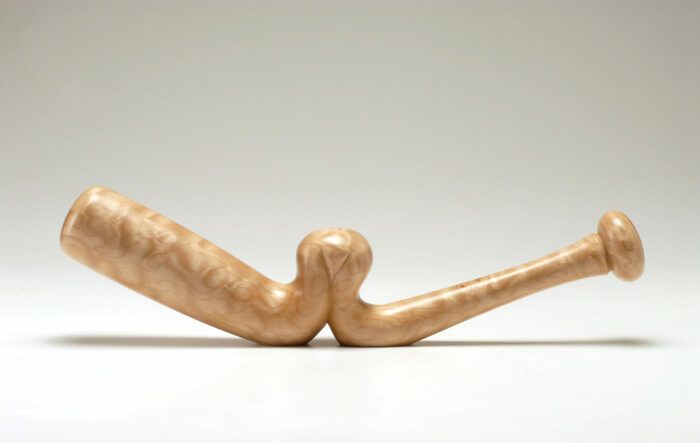 Mark Sfirri's baseball bats headed to Cooperstown
The National Baseball Hall of Fame and Museum in Cooperstown, N.Y., has acquired a set of unusual baseball bats titled "Rejects from the Bat Factory," created by Mark Sfirri of Bucks County, Pennsylvania. The president of the Hall of Fame, Josh Rawitch, had this to say: "We are excited to add this very unique piece of artwork to our permanent collection for fans to enjoy. Our museum continues to display and collect one-of-a-kind artifacts and objects that help tell the history of our great game and Mark's work certainly falls into that category."
The set is part of a series that Sfirri began in 1993. Over the past 50 years, Sfirri has created a diverse range of wood furniture and sculpture but his variations on the theme of altered baseball bats are among his signature works. The Hall joins other prominent institutions with sets of Sfirri's baseball bat series, among them, the Renwick Gallery (of the Smithsonian American Art Institution, Washington, D.C.), Museum of Arts Design (New York City), The Minneapolis Institute of Art (Minneapolis, Minn.), The James A. Michener Art Museum (Doylestown, Pa.), Yale University Art Gallery (New Haven, Conn.)— as well as numerous private collections.
Sfirri's work is currently on view at the National Baseball Hall of Fame and Museum. For more information about a trip to the Hall, visit their website: https://baseballhall.org.
The Bandsaw Box auction is LIVE!
Join in on Thursday, October 20, 6:30–9:30 p.m. for the fourth annual 2022 Bandsaw Bash taking place in person at the Arch Street Meeting House in Old City, Philadelphia! This event celebrates the Center for Art in Wood with a festive evening party and silent auction. It is an opportunity to gather in support of the Center's unique mission while connecting with friends and supporters in the Center's vibrant community.
For more information regarding auction sponsorship and tickets, visit https://centerforartinwood.org/event/bandsaw-bash-2/.
Next Wave CNC introduces the SHARK RS1000 PRO
Perrysburg, Ohio – Next Wave CNC has just announced a revolutionary new product that will transform your traditional router table with repeatable accuracy in production. The SHARK RS1000 PRO will be introduced and available from Next Wave CNC and authorized retailers nationwide. "We are focused on developing game-changing functionality while building tools that increase creative options and support quality and timely production outcomes," says engineer and Next Wave CNC Co-Founder Tim Owens.
The RS1000 PRO is the newest addition to Next Wave CNC's SHARK brand of woodworking products. "Over the last three years, our engineers have worked tirelessly to integrate full CNC functionality and bring it to your router table." Owens continued, "The Shark RS1000 PRO will transform nearly any router table into a full-fledged TWO Axis CNC – allowing you to adjust the fence or the bit height by as little as one-thousandth of an inch while reducing setup time up to 90% ."
If you have a tool release or news item you'd like considered for new, weekly roundup of woodworking news send it to  [email protected] .
Sign up for eletters today and get the latest techniques and how-to from Fine Woodworking, plus special offers.
Get woodworking tips, expert advice and special offers in your inbox
×