Blog
For those who just can't seem to let go of the scraps.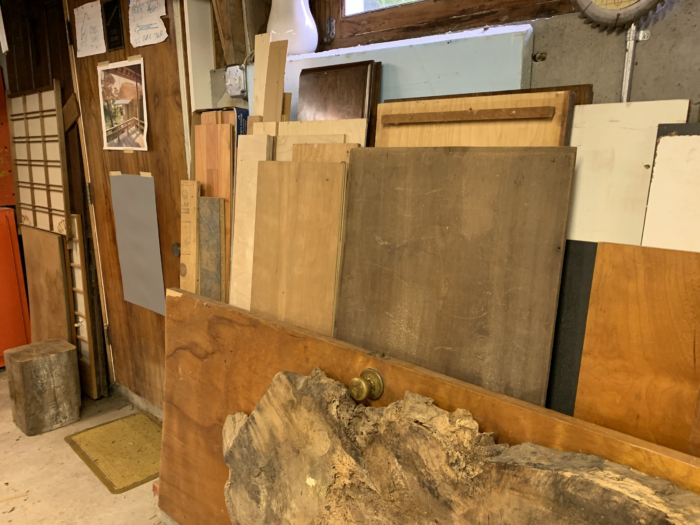 Wood offcuts–we love them, we hate them. They take up room, but we "might" need them someday. They are too valuable to burn, yet it is difficult to keep them in a useful way. Any solution would have to be flash-fast, both for storing and for finding the smallest offcut that will serve your current need. As well as that, it would have to be flexible enough to allow for the constantly changing supply of various lengths and sizes of offcuts and for new wood coming in. My approach is simple, near-instant, and flexible, and allows me to keep and organize all my offcuts and general lumber in a way that has saved me money and time.
When I began my furniture making career, I built shoji (Japanese wood and paper doors) and similar fitments, on my apartment's tiny fire escape in Somerville, Mass. I had no room for keeping spare lumber, much less cutoffs, in my one-room apartment. Yet, there I began my long trek to efficiently keeping and storing cutoffs from various woods, sizes, and thicknesses.
Today, after 30 years as first a professional, and now amateur, woodworker, I rarely need to throw useful wood on the fire. Instead I very often find exactly what I need on my shelves and storage stacks quickly.
Principles that simplify
I began by trying to store wood by species, but quickly learned that would require more space and organization than I had available. Instead, I organize as follows:
At the highest level, I separate solid

stock from plywood. Even this rule is not absolute, but

nearly so

.

Solid stock comes in an infinit

e variety of forms and sizes and thicknesses, but plywood is more

constrained

in its likely sizes.

Th

is method

I apply to plywood

, but it is simpler

, so

here I address o

nly solid-

wood s

t

or

age.

 

The

solid stock

I organize

first by length, into several groupings:

Up to 30cm, or about 12 in.

Up to 75cm, or about 30 in.

Up to 120cm,

or 44 in.

Up to

1

6

0cm

, or about

5-ft, 4 in.

Up to 8 ft.

(since

lots of things start out this size)

Up to 16 ft.

for anything over 8 ft.

A

nything longer has to be a

specialty

, stored else

where
Having separated by length, each length category is stored on a set of shelves, one above the other. Since the shelves in each category are all about the same length, this method maximizes the use of wall space, since the shelves holding other sizes can be hung right up against this set.
Because I have a series of shelves, usually 3, 4 or 5, one above the other, just for one length, I store one thickness on each shelf within the length category. For 3 shelves these usually these end up being under ¾ in.; up to 1½ in.; and thicker. With length and thickness defined within one shelf, I can stack all my lumber of that length and thickness by width, organized a bit by species where it makes sense.
Here, my next-to-smallest pieces are stacked on an old bookshelf. They run ~1-2 feet in length. The top shelf is all under ¾ in., and lined up by width. Easy to find something that will yield a 1/2-in.-thick piece 10 in. long and 2 in. wide.
Here are the next size up–these run approximately 2 ft. to 3 ft. (although I work mostly in metric, I have to know the English system for purchases, etc.). By the principle, all the wood I own that is of that specific LENGTH is here–it is not and cannot be anywhere else in the shop. When I want this length or less for a project or jig, etc. I go here and quickly find what I need with minimum waste. Each shelf has a narrow range of thicknesses, so I can narrow any search rapidly to a single shelf, at least to start.On the left side of the photo above, you see the end of the shelves of the next size up. Below, the storage bins for the cutoffs that are too short or oddly shaped to be on a shelf are also sorted by thickness.
In use
What happens when I need a piece of wood? I know instantly where to look, and which relatively small pile to dig through. It takes almost no time to discern if I have what I need, or must go "one size up" to cut down some larger piece into the needed bit.
For example, I was just building a coffee table, and needed end caps for the top. The length was 22 in. and the width was 1½ in. for each of the two pieces. I walked to the "up to 30 in." shelf, and quickly saw that I had a piece of cherry from which I could cut both end caps. Had that not been the case, I would have gone to the "up to 44 in." shelf, and sought a solution there.
Had THAT not worked, I would have escalated to the longer options, until I found what I needed. This minimizes waste, allows maximum use of offcuts, and ensures that if I do not find the material I need, then it is not in my shop. I won't find the wood a week later under a pile of butternut in the corner, having purchased 5 board feet to provide the small piece I needed for this tabletop.
And the system is flexible. If I have more pieces of one size than I have room for, I add the shortest ones to the size shorter, or the longest ones to the next size up shelf, and adjust my mental map of the shelf order accordingly. Ease of use, flexibility under changing needs, and near-instant finding of what is available are the goals, and this system accomplishes that.
Sign up for eletters today and get the latest techniques and how-to from Fine Woodworking, plus special offers.
Get woodworking tips, expert advice and special offers in your inbox
×