Tools Materials
Chairmaking tools make a believer out of David Douyard.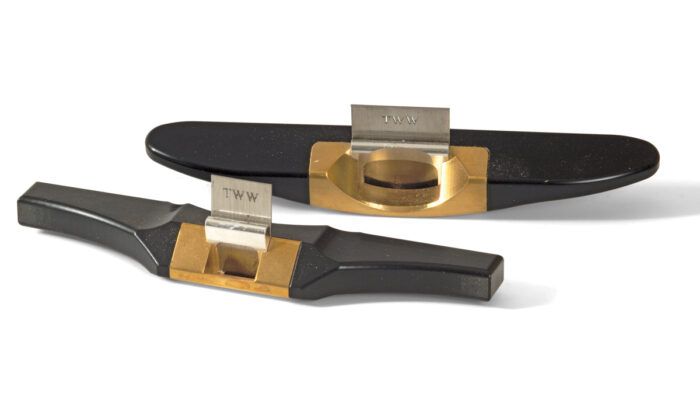 Scraper planes by The Windsor Workshop thewindsorworkshop.co.uk Traviscraper and Spokescraper $140–$200 at current exchange rates
I build chairs with both softwoods and hardwoods, and scraping to level tool marks is a regular activity. I typically use handheld scrapers, simple tools that left me skeptical of anything else. But after using a pair of tools from UK-based The Windsor Workshop (TWW), I've added them to my arsenal.
The tools are the Traviscraper and Spokescraper. The first is designed to work on concave surfaces, the second on convex and flat surfaces. Made of Delrin, a high-density polymer, and brass, they feel wonderful and have a bit of weight. The blades are also beefy, much thicker than the hand scrapers that I normally use. 
In practice, the tools are similar to scraper planes like the Stanley #80, with the blade secured at a constant, steep angle. Reforming the burr was easy and similar to the way I sharpen and form a burr on my handheld scrapers. TWW has two videos on how to use and sharpen these tools. The depth of cut is controlled by adjusting the blade. The throat is pretty fine, but I didn't find it terribly limiting when I wanted a heavier cut. 
Both tools performed wonderfully on both softwoods and hardwoods, including pine and elm, which are notoriously prone to tearout. What little tearout I got was quickly fixed by adjusting the direction and angle at which I presented the tool to the wood. All that was left was a little bit of sanding.   
—David Douyard is a chair maker in New Hartford, Conn.
From Fine woodworking #294
More from Tools Materials
Handplane Fundamentals: The Card Scraper
The card scraper is your first tool to grab to clean up any plane tracks or minor tearout left behind by your planes.
Foolproof Surface Prep
Working systematically, Bob Van Dyke demonstrates how to remove mill marks and tearout with a scraper, break sharp edges and corners with a block plane, and sand to an even finish with sandpaper.
Tuning a Scraper Plane
Rollie Johnson explains how to make these cantankerous smoothing tools work…most of the time.
Sign up for eletters today and get the latest techniques and how-to from Fine Woodworking, plus special offers.
Get woodworking tips, expert advice and special offers in your inbox
×