Tools Materials
We take a close look at these premium dividers made for woodworkers.
Log in or Sign up to save your favorite articles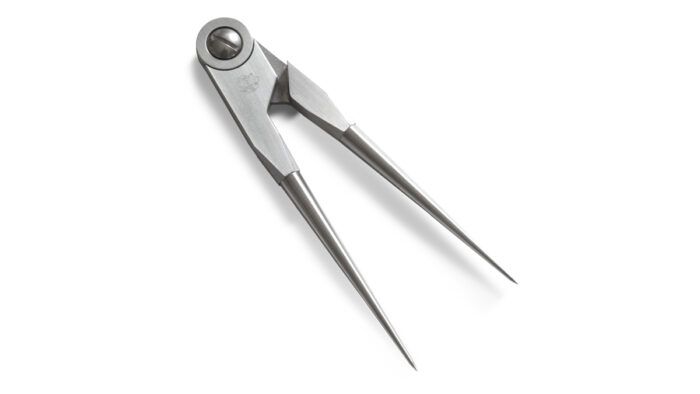 Dividers by Red Rose Reproductions $120–$130
Dividers are handy for taking measurements from an existing pattern, transferring those measurements to the workpiece, and laying out joinery. The model from Red Rose Reproductions has become indispensable in my tool kit because of its ease of adjustment, quality, and adaptability.
The dividers are designed with a friction hinge, allowing you to adjust the legs with a simple squeeze. In most situations this is a great advantage, as the more commonly found spring-adjustment type of dividers are slower and more cumbersome to adjust (though I do find their fine adjustments a little easier). The friction setting on my Red Rose dividers was perfect out of the box—neither too tight nor too loose. But if I ever need to adjust it, it's simple to do with a flathead screwdriver. The dividers arrived with extremely sharp tips. They're available in two sizes, 5 in. and 7 in. I have the smaller ones and have found them sufficient for most furniture components.
Switch a leg for a pencil. This optional accessory lets you turn a scribing tool into a drawing one.
My favorite feature of these dividers is that they can be transformed into a compass by replacing one of the legs with an optional compass attachment ($22), letting you hold a pencil in one leg to draw, rather than scribe, an arc. I purchased my dividers enthusiastically once the compass attachment became available, and haven't had a moment's regret. 
—Mark R. Maleski is a woodworker in the Washington, D.C., metro area
Photo: Barry NM Dima
From Fine woodworking #295
More like this
It's true that you can't have too many, but you can have too many useless ones. So here's Megan Fitzpatrick's take on what clamps you need, in the order that she uses them most.
4 tool mods from Chris Gochnour's shop
Four simple tool modifications that help Chris Gochnour get the most out of the tools in his shop.
Measuring precision
Vic Tesolin relies on three main tools for measuring: a measuring tape, a rule, and a trusted frame of reference.
Sign up for eletters today and get the latest techniques and how-to from Fine Woodworking, plus special offers.