Blog
Yup, Vic Tesolin is moving shop again. What will he keep and what will he get rid of?

By Vic Tesolin Jul 27, 2022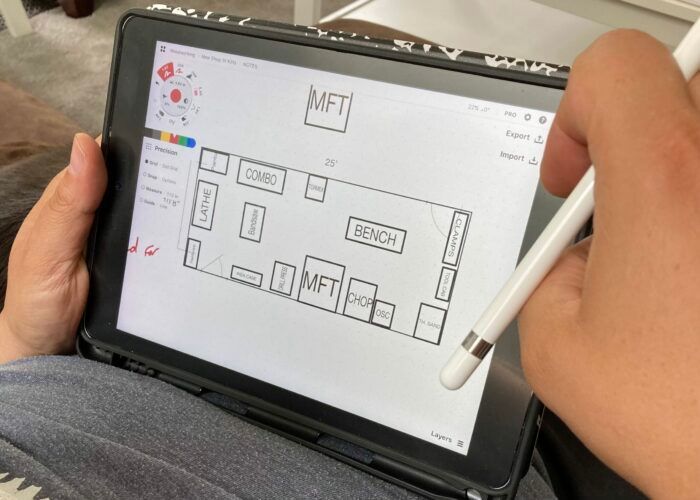 The winds of change are blowing up here in the north and they are welcome. For a number of reasons, we are relocating to a new city in southern Ontario and by all accounts we are downsizing. Our current house is a dream crib by many standards: beautiful double lot full of mature trees, a nice house, good neighborhood, and of course, the 400-sq.-ft. detached shop at the back of the property. We have learned that the house and yard require a lot of upkeep. We are also in a busy city and we want to slow down a bit and not have so much to do. So we found a nice 1950s bungalow in a quiet neighborhood in a smaller city where the pace is slower.
All of this means that I'm moving my shop … again. Since I started woodworking over 20 years ago, I have worked in eight different shops, six of which were my own. I don't mind moving shops, in fact, I strangely enjoy it. It's a lot of work to pack things up and move them to a new space, but I enjoy the exercise of designing a new space and getting it set up to suit the current way I work. I always try to keep my workflow the same but in some cases, that's not possible.
My current shop is just under 400 sq. ft. and the new shop is 260 sq. ft., so the move includes a downsizing of the shop. This loss of 140 sq. ft. is not a problem as far as I'm concerned. I've worked in small shops before and it just means I have to be more strategic about things, storage being the biggest issue. In my current shop, I didn't really have to worry about storage of tools and supplies because I had plenty of room to bring in cabinets or chests of drawers to store things. This next shop will require me to use up every bit of space while keeping the space functional. I think walls and vertical storage are going to be key.
There are also some tools that aren't going to make it into the new shop. I'm forcing myself to be critical of the tools that I use on the daily and those that only get used once in a while. I'm giving a hard look at those not-so-often used tools to see if I actually need them. I imagine my workflow without them and decide whether or not I have another tool that can accomplish the task. For example, when I got rid of my tablesaw, I was able to cover all the things I would do on it with my track saw, a router, and my MFT. I'm glad the saw is already gone because there is no way that it would be entitled to the space it requires in this new shop.
I'll be blogging once in a while about this whole process of downsizing the shop. I feel that there will be a lot of good lessons learned by me during this process and I'm happy to share them with you. After a career in the Canadian military, I'm no stranger to the winds of change. I embrace change and actually look forward to a fresh start in a new shop.
More from Vic Tesolin
Is your shop 5S?
Follow this Japanese organizational method to keep your workspace organized, clean, and conducive to creativity.
Are you a wood shop tweaker?
All the shop's a stage, and all the woodworkers merely players.
New shop space
Vic Tesolin is moving shop again. This will be his sixth shop in 20 years, but this space could be the one!
Sign up for eletters today and get the latest techniques and how-to from Fine Woodworking, plus special offers.
Get woodworking tips, expert advice and special offers in your inbox
×