Shop Tips
Rolls of veneer are bulky and awkward. This method of storage is easy and accessible.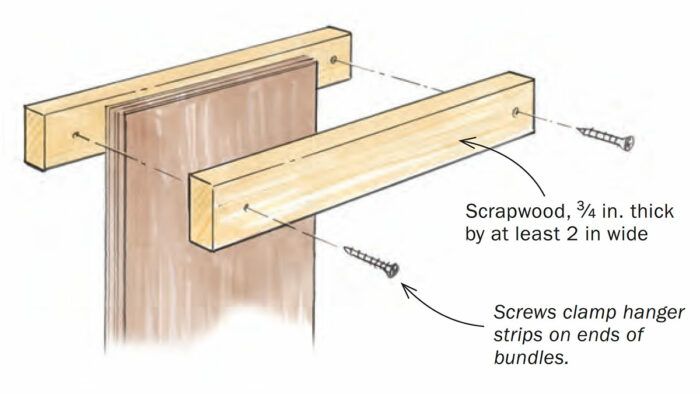 Longer veneers often arrive in rolls, but they are difficult to store that way. I've tried storing the rolls on shelves, but they can be hard to identify and access. Inspired by pants hangers, my new method keeps matched veneers bundled together, protects them from harm, makes them easy to identify, and uses shop space efficiently. I clamp the long bundles between scrapwood strips, and then hang them on wall supports. I often use painter's tape to bind the end of a bundle, and bungee cords to pull long bundles against the wall and out of harm's way. By the way, I keep shorter veneers in shallow drawers.
—ROGER MYERS, Rollinsford, N.H.
Illustrations by Dan Thornton From Fine Woodworking issue #303
Sign up for eletters today and get the latest techniques and how-to from Fine Woodworking, plus special offers.