Shop Tips
Taller than the ones you find retail, this sharpening jig is especially handy for flattening backs and sharpening drawknives.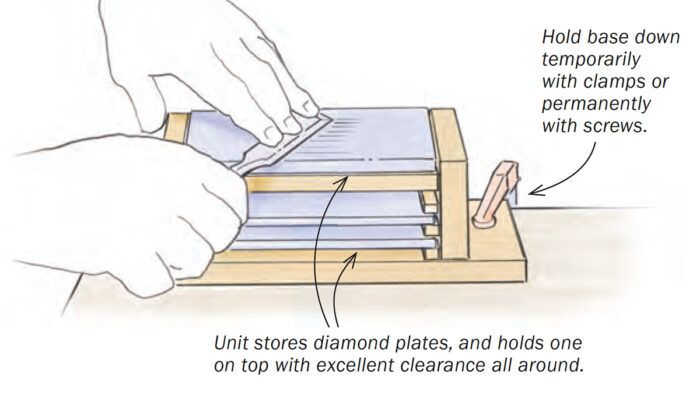 I use diamond plates for much of my sharpening, adding a leather strop for final honing. To store these plates and also elevate one off the bench for easy use, I built this sharpening station. It's taller than the holders sold for these plates, which comes in especially handy when flattening backs and sharpening drawknives, allowing plenty of clearance for the tool handles. The little storage shelves below not only keep all the plates in one place but also help keep dust off them. They also hold the strop, which is glued to a piece of plywood. The dimensions below are based on my DMT Dia-Sharp diamond "stones," which are 3 in. by 8 in., so they'll need to be adjusted for different plates. If you place thin shims at the end of the abrasive plates during construction, you'll have enough wiggle room to remove them easily.
—SCOTT OLIVER, Albany, N.Y.
Illustrations by Dan Thornton From Fine woodworking issue #300
Sign up for eletters today and get the latest techniques and how-to from Fine Woodworking, plus special offers.
Get woodworking tips, expert advice and special offers in your inbox
×