Tools Materials
Compact SawStop is a win for smaller shops and budgets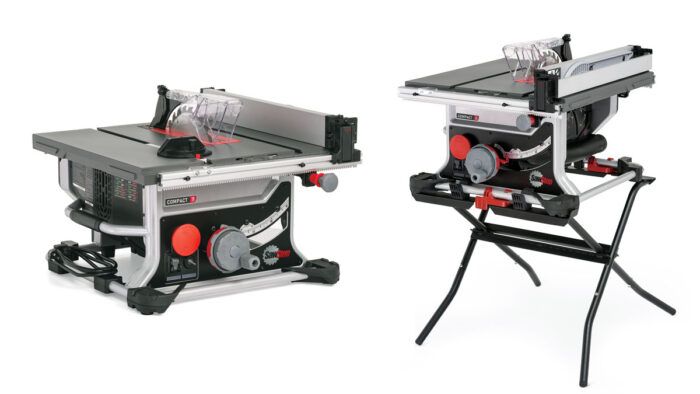 Table saw by SawStop Model CTS $900
The new Compact Table Saw (CTS) brings SawStop's proven safety technology to a wider range of customers, while carrying on the company's tradition of well-designed and well-constructed tools. With a winning combination of price, size, portability, accuracy, surprising power, and a full 10-in. blade, the CTS is unlike anything on the market for small shops or newer woodworkers. 
While the 120-volt CTS can rip through 8/4 maple with relative ease, it doesn't accept dado sets, which means woodworkers will have to get more creative with some joinery cuts. The well-engineered fence stands out. Riding on front and rear gear racks, it stays perfectly parallel to the blade, and adjusts precisely with a clever knob that pulls out to engage the gears and pushes in to lock. The blade's bevel angle micro-adjusts in a similar way.
The innovative fence includes an auxiliary bar that flips into place to act as a low fence for narrow rips. And, when the bar is lowered slightly, it doubles as a shelf to support wide pieces, helping this compact saw overcome a drawback of its relatively small tabletop. Stops at the front of the table that keep the fence from being inadvertently pushed into the spinning blade (and triggering the brake), can be pushed in for narrower rip cuts.
With the blade encased in a tight lower shroud, dust collection is nearly 100% effective below the saw when a vacuum source is attached. Last but not least, the fence, riving knives (shark fin and standard), multi-leaf blade guard, blade-change and adjustment wrenches, miter gauge, and extra blade cartridge (available separately) all store neatly in a removable plastic box on the back of the saw. One caveat: I would replace the stock miter gauge with a better, aftermarket model. 
Plenty of power.
With a 10-in. blade and standard 120-volt power, the SawStop CTS easily rips through 2-in.-thick maple. Full blade height is 3-1⁄4 in., comparable to a full-size cabinet saw.
Smart fence.
The rip fence rides on gear racks at the front and back, keeping it square to the blade, and it adjusts and locks precisely with a front-mounted knob. It includes a low fence for narrow rip cuts, which drops to support wide stock for ripping, as shown.
—Roland Johnson is a contributing editor
Photos: Roland Johnson and courtesy of Grizzly 
From Fine woodworking #303
Sign up for eletters today and get the latest techniques and how-to from Fine Woodworking, plus special offers.