Two options for those who want to bring an old plane to life, or just add a bit of style to an old favorite.

By Ben Strano May 26, 2022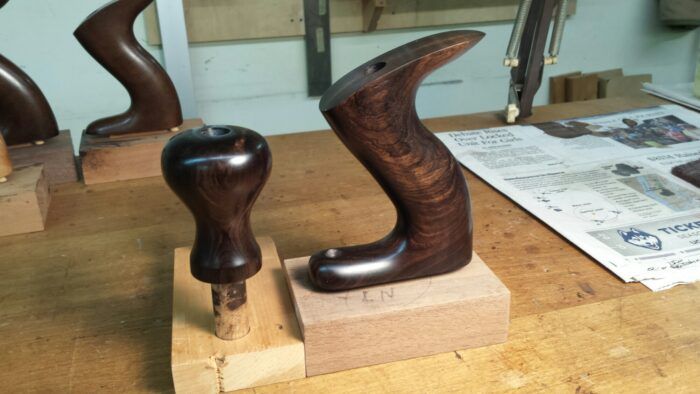 I'm going to try something different for this week's Made You Look. Let me start by telling you that this post is not sponsored, and it's not a tool review. As with all of the Made You Looks, it's something I saw and thought our audience would find interesting.
A few weeks ago I was at our local flea market—it's a big famous one, we're lucky—and stumbled upon a new-to-me tool dealer. Honestly, the only thing I look for at flea markets is old hand tools, so Michael Klein's booth was easy for me to spot. Nothing but hand tools, but there was something different about them. I gazed upon old Stanley planes that were not only cleaned up, but also gussied up with beautiful, custom-made knobs and totes. Some were adorned with exotic woods, some simple domestics; all of them were lovely and crafted with expertise.
I have a Stanley #3 with a suspicious handle, likely to fail soon, and I will likely be reaching out to Michael about purchasing a replacement when it does.
Klein's walnut knob and tote made for a Stanley #2
Cocobolo tote and knob made for a Lie-Nielsen #4, made by Klein
I would be remiss if I didn't mention Bill Rittner, another maker of replacement knobs and totes, who also happens to be a Connecticut local (I'm sure people in other states do this … right?). I know that both Mike Pekovich and Bob Van Dyke have a few handplanes sporting upgrades from Bill's shop. Bill even has the impossible-to-find hardware that vexes many who are trying to restore antique handplanes due to the oddball threads Stanley used. If you are the type to refurbish old handplanes, Bill's blog is an absolute wealth of useful information on the subject!
Rittner's Stanley knob and tote set in rosewood
Rittner has specialty brass and steel hardware made up for old Stanleys.
If you have experience with other vendors, leave a comment below and share the love!
-Made You Look are videos and other items that we've found on the web that we thought were worth sharing with our audience. Let us know if you find anything you think is worth a look in the comments below!
Sign up for eletters today and get the latest techniques and how-to from Fine Woodworking, plus special offers.
Get woodworking tips, expert advice and special offers in your inbox
×