Online extras from Issue No. 303 of Fine woodworking magazine. June 2023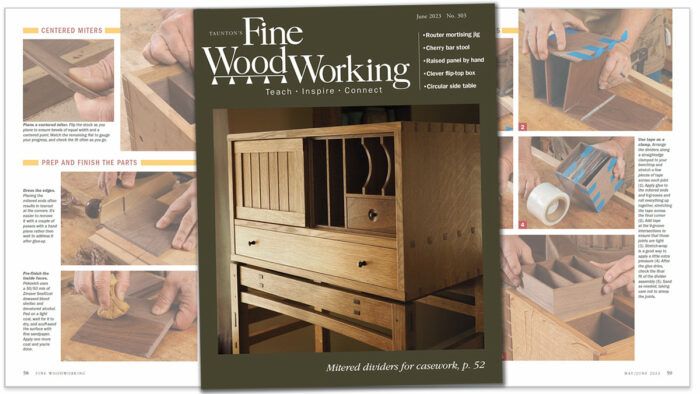 Online extras from FWW issue #303
woodworking News" src="https://s3.amazonaws.com/finewoodworking.s3.tauntoncloud.com/app/uploads/2023/03/29165746/fw-news-3-29-3-300x300.jpg">
Weekly woodworking news updates
Check in with us as we look at new woodworking tools coming to market and exciting industry news.
Made you look
Follow along as we pick out our favorite woodworking videos that intrigue and inspire us. We hope they inspire you, too.
Video: At home in the shop
Built for living as well as working, the Maine woodshop of Charlie Durfee has evolved with its maker.
Video: Router table mortises
Bob Van Dyke turns to the router table to create accurate and repeatable mortises.
Video: Simple box, tricky lid
Barry Dima's box features a lipped, inset lid that can be difficult to make in quantity. Here's how he uses two uncommon but affordable router bits to do the heavy lifting.
Video: Mix your own shellac
Canned shellac is convenient, but if you want more control over your finish, you'll need to mix your own. In this video, Mike Pekovich shows you how easy it is to make a batch of shellac from flakes.
Video Workshop: Learning Curve: Turning
Join two woodworkers—Anissa Kapsales and Ben Strano—right from the start as they learn to turn under the watchful eye of an expert, Windsor chair maker David Douyard. In this series, you'll learn the basics of turning, including:
Initial shaping with a roughing gouge
Creating V-cuts and beads with a skew chisel
Accurately sizing tenons with a parting tool
Sign up for eletters today and get the latest techniques and how-to from Fine Woodworking, plus special offers.