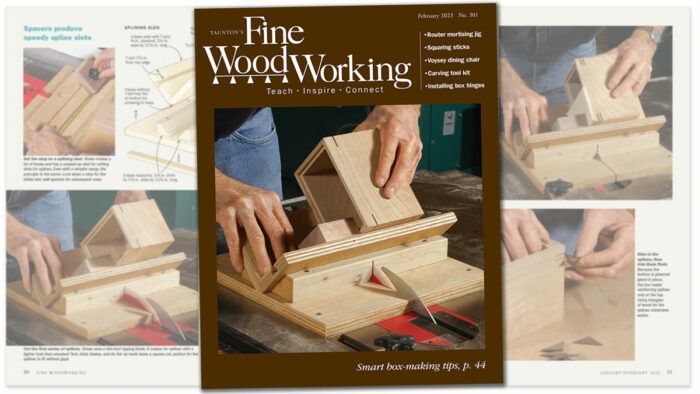 Online extras from Issue No. 301 of Fine woodworking magazine. February 2023
Video: Using the Morley mortiser
Philip Morley demonstrates how he uses his mortising jig to create accurate mortises with a plunge router.
Video: Getting sharp
Sharpening gouges can be frustrating. In this video, Mary May demonstrates how she gets her tools sharp, and keeps them sharp.
Video Series: Enter the octagon
Michael Cullen demonstrates one of his favorite hand-tool exercises—making a perfect octagon—which tests a woodworker's skill from material selection and careful layout to tool preparation, blade sharpening, and sawing and handplaning skills.
Video: Too many clamps?
Woodworkers love to joke about never having enough clamps, and that's mostly true. In this video, we argue that you really need just a few clamps in key places around the shop.
Video: Wooden hinge how-to
Boxmaker Doug Stowe doesn't limit himself to store-bought hinges. Here, Stowe shows how he makes hinges from something we all love—wood!
Video Workshop: Veneered boxes with a twist
Follow along as furniture maker Adrian Ferrazzutti creates dazzling patterns in veneer while making a custom box that's sure to earn its stripes. In this eight-part series, Ferrazzutti takes you through every step of the process, including how to:
Design and create your own geometric and mosaic veneer patterns
Build strong boxes quickly and efficiently using simple rabbet joints
Mount quadrant hinges and make your own keyholes from solid brass.
Sign up for eletters today and get the latest techniques and how-to from Fine Woodworking, plus special offers.
Get woodworking tips, expert advice and special offers in your inbox
×