How-To
Garrett Hack has a style all his own, and here he talks about where it began, how it developed, and where it might be going in the future.
Log in or Sign up to save your favorite articles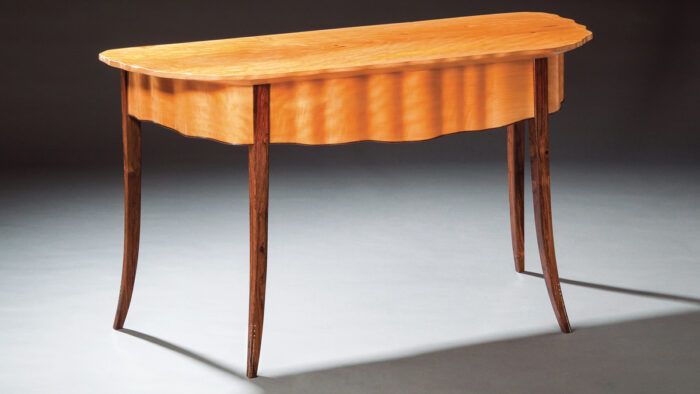 Synopsis: What goes into a furniture maker developing their own personal style? Garrett Hack has a style all his own, and here he talks about where it began, how it developed, and where it might be going in the future. For this furniture maker, observation is key, whether the inspiration comes from a classic piece of furniture, a natural form like a shell, a building, bridge, or something else entirely.
Every aspect of building furniture involves design, from first sketches to choosing materials, proportioning the parts, fashioning details, even deciding on the right finish. It will always be a challenge. As I have evolved as a designer I've developed a personal style, a visual vocabulary of design ideas that I am constantly exploring, refining, and adding to.
Educate your eye
Design is about looking—really looking—and making sense of what you see. Why does one thing appeal to you strongly and something else less so? Stimulating ideas can come from nature, architecture, a painting, anything that attracts your attention. I have always been a strongly visual person, no doubt influenced by a mother who believed that every museum was worth visiting, and travel was always a rich source of new ideas. My visual curiosity nurtured at an early age is even greater today, as I more easily connect ideas and see patterns that inspire future work. This deep well is my strongest asset as a designer.
Building on a Shaker foundation.
Early in his career, Hack closely studied the forms of Shaker furniture, like the chest above, attracted to their directness, simplicity, and clarity. His own pieces, like the cherry and maple table at left, clearly reflect their Shaker roots but have a crispness and lightness of their own.
I remember one instance many years ago of really looking at and trying to understand a complex Philadelphia highboy at the Museum of Fine Arts, Boston. I was studying furniture at Boston University's Program in Artistry and, through museums and reading, I was learning about the foundational styles of our craft. This highboy was not that appealing to me, but as I forced myself to study it I began to appreciate its shapes, proportions, the organization of its many elements and details. It was considered to be a sophisticated masterpiece by many; what could it teach me about design? That I can still reconstruct that piece in my mind says that some design influence lasted, but maybe just as important was the lesson that there are useful ideas everywhere if you look for them. 
From Fine woodworking #294
To view the entire article, please click the View PDF button below.
Rekindling the Spark
Whether it's a full-time job or a just a hobby, how do you keep your passion for woodworking from fizzling out? Three decades have taught Garret Hack how to keep the excitement alive in all his projects.
The Right Way to Use Contrast
Make your furniture stand out by combining different grain, figure, and colors.
A Workbench 30 Years in the Making
Hand-tool expert Garrett Hack designs his second bench, based on everything he's learned.
Sign up for eletters today and get the latest techniques and how-to from Fine Woodworking, plus special offers.
Download FREE PDF
when you enter your email address below.
View PDF