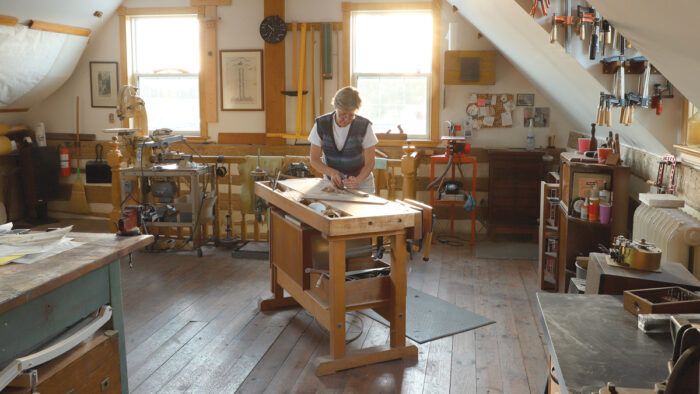 Synopsis: Karen McBride's woodworking journey started in a veterinary lab in Australia, where she shared office space with Ian Wilkie, furniture maker. It wasn't long before Ian decided she needed a workbench. And that small workbench, built to fit in a laundry closet, was the first step on a path.
W e woodworkers all need to start somewhere, and my journey began with a workbench.
At the time, I was working in IT at a veterinary laboratory and I shared an office with an energetic pathologist from Australia. Since I was new to the lab and there was a shortage of space, Dr. Ian Wilkie and I sat back to back in a tiny office with a fabulous view of the loading dock. Ian was not fond of computers, and I had an equal disdain for Crocodile Dundee, but we bonded over my leather briefcase. 
The briefcase, handmade from 3⁄16-in. leather, was brand spankin' new, so much so that the tiny office soon smelled like a tannery. I apologized for the odor and Ian quipped, "If any of that leather goes missing I'll have stolen it for my bench vise." My ears perked up and I turned my chair around. "So what do you make on this bench?" I asked.
The next day Ian appeared for work with snapshots of furniture he had made and a copy of Fine Woodworking. It was my first introduction to handmade furniture that looked something like the antiques I had grown up with. Surprise, surprise—Ian was a prolific woodworker who made beautiful reproduction pieces for friends and family. I should probably have been in awe of his pathology credentials, but instead it was his woodworking skills that drew me in.
I had no woodworking experience, but I had apprenticed as an auto mechanic and I loved working with my hands. In one of our many chats I asked Ian if he would help me carve a duck. My father had taken up decoy painting and I was keen to take on Canada's smallest diving duck, a Bufflehead drake. Ian was delighted. He loved birds and had a wonderful collection of books and patterns for reference and the tools and skills to match. 
The fun began in his basement workshop where we cut a blank on the bandsaw and taped the pieces back together to restore a reference face to make another cut. Brilliant, I knew I was going to like this. I bought some carving tools but I still needed a vise to hold my duck. I suggested I could buy a portable WorkMate bench that would fit in my apartment's laundry closet, but Ian would have none of it. "I have some scraps here," he offered. "Let me put something together to fit your space." It was clear to me that Ian was taking this very seriously. He even wanted to know how much I weighed and insisted that my small bench needed to be heftier than me so I didn't push it around the room.
I knew less than nothing about woodworking but imagined my new bench would look something like a small chopping block on legs. As a kid I had used the chest freezer in our basement as a workbench, so a wooden working surface would be a big step up for me. 
Within weeks my bench was ready and I was eager to see it. Little had I known that Ian loved making benches. His design for mine was based on Frank Klausz's 1985 article, "A Classic Bench" (FWW #53). It's a traditional European bench with dovetailed end cleats, square dogs, a tool tray, and a tail vise with a wooden screw that Ian turned and threaded himself. 
Ian insisted on weighing the bench on the laboratory's large scale, which normally tallied the poundage of horses and cattle. Word quickly spread and soon my colleagues were gathered around the post mortem room to watch Ian deliver the goods. We all heaved the bench to the scale and weighed it. Ian hooted in delight. His weight estimate was bang on. 
Ian seemed more pleased with his skill of guessing the bench's weight than anything else. A bench like that was old hat to him. But not to me. It was massive and perfect and beautiful all at the same time. There were intricate square holes all down one side. How did he make those so square? The tool tray had slanted blocks on each end so you could sweep shavings out and the large wooden vise screw was newly made but harkened from the old world. The bench was made with an array of woods from Ian's stash: cherry leftovers from his own bench, a few bits of old maple from a demolished mill, Douglas fir, red oak, and even osage orange. In the early years the multi-hued benchtop served as my wood identification reference.
My bench was impressive in the small laundry room cupboard, but it made me feel a little guilty. I couldn't just carve a duck and let it sit idle. I needed to get woodworking.
Now, some 30 years later, my workshop has grown to over 1,000 square feet and my bench still serves me well. Ian Wilkie has returned to Australia and is still making wonderful benches, infill planes, marking tools, and handsaws in his outdoor shed. I have no idea why he decided to bestow such a fine bench on a total newbie with a few chisels and a partially completed duck, but when people ask me why my bench is so small, I think of Ian and with a smile I say, "Let me tell you a story."
Karen McBride makes furniture and sculpture in Dunrobin, Ont., Canada. The log building she restored as her shop was featured in FWW #286.
From Fine Woodworking #294
Sign up for eletters today and get the latest techniques and how-to from Fine Woodworking, plus special offers.