When it comes to re-creating a design in SketchUp, perfect reference photos make all the difference.
By Tim Killen Jan 07, 2022
Log in or Sign up to save your favorite articles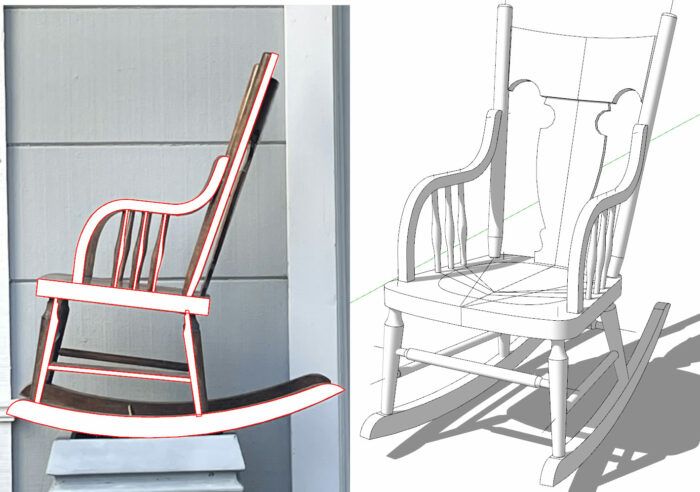 Predominantly, my sources for furniture reproduction are photos. Most of the time I find these photos in books and on museum websites. Occasionally, the photos are from woodworkers using iPhones or equivalent. Recently, one of my students sent me several photos of a child's rocking chair. This was a family heirloom and the student was anxious to start a reproduction. However, rocking chairs are difficult, with lots of shaped and turned components connected at irregular angles. So I was asked to create the SketchUp model with its attendant detailed, dimensioned, and annotated Scenes, including full-size templates.
The student provided a number of photos at various angles, some close-ups and others of the complete rocker. SketchUp comes with two ways of handling photos—the simple "Import" and the more sophisticated "Photo Match." As there are no right angles in rocking chairs, the Photo Match option will not work. Therefore, my only option was Import. I could import the existing photos, but none were ideal for capturing shapes, angles, and sizes. They were taken at various angles (not straight-on or perpendicular to surfaces) and rather close with lots of perspective. Ideally, you would like Orthographic-like pictures Top, Front, and Side views.
I asked the student to take three pictures, all straight-on perpendicular, Side, Front, and Top. I told him to stand far away from the rocker, say 25 feet or so, using zoom to fill the screen. This setup meant that we were removing much of the perspective and increasing the chances of an orthographic depiction.
These were ideal for the next step in capturing the shapes and sizes of components in SketchUp. After aligning these to the SketchUp red, green and blue axes, and sizing them full size, I was ready for the trace over of the components.
Above is an example of my trace over for the Side View. I don't do the turnings at this stage, just create the half profiles as you can see for the spindles and stretchers.
Here is my current model with the rough components. There is much more to be done—creating all the component detailed dimensioned Scenes, and the joinery. I have worked out Sighting Lines on the Seat for drilling angles.
Tim Killen
KillenWOOD
Adding phantom lines in SketchUp
SketchUp makes it easy to explain technical details, including a way to show phantom lines demonstrating how pieces connect.
Creating complex curved faces in SketchUp
Tim Killen uses a SketchUp plug-in, Fredo Curvaloft Skin Contours, to help him model a complex shape on a challenging Queen Anne leg.
Multiple SketchUp views for help in the shop
Tim Killen finds it extremely helpful in the shop to have multiple views of the components from different angles and positions. SketchUp makes this possible by using various Scenes with separate dimensions used in different layers.
Sign up for eletters today and get the latest techniques and how-to from Fine Woodworking, plus special offers.