Blog
Kyle Kidwell uses the Shaper Origin to create a modern side table with complex joinery.

By Kyle Kidwell May 23, 2023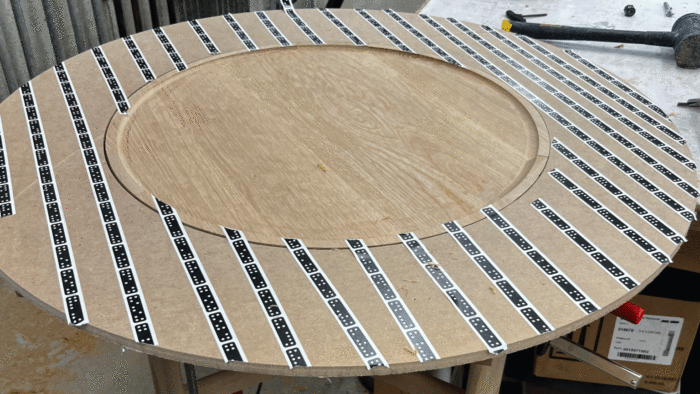 Business owners in the world of furniture making must have a clear focus in order to earn a living and have longevity. If you say yes to enough cabinetry projects, all your inquiries tend to perpetuate more cabinetry. The same can be said for taking on too many custom, one-off pieces. But since I am passionate about furniture design, I am constantly trying to steer orders and production flow toward my own designs. At times this pursuit feels like it's going just as planned, and during other periods … especially early on … it feels like an absolute slog. Progress can be very elusive.
The hard questions
It turns out there are at least a few mountains to scale beyond selling your own designs. How will I get my own shop space? How will I get enough machines and tooling to be truly operational? How can I do that while also building a portfolio? I need decent photography of my work if someone sees my website! What about the website? Even if it's looking decent, who's gonna buy this stuff anyway? How do I get enough marketing traction with my own designs so that I can actually make money? I just missed a cut and I'm out of lumber. How did I do that again after making a solemn vow to never do that again? There are no short answers here nor is there a set of solutions that will pertain to everyone's particular journey as a furniture maker and designer.
But I do believe very strongly that good design reflecting the maker can create the kind of momentum one needs to be successful and have a career. I am always looking for an opportunity to manifest new designs and keep the momentum going. Often times, an idea stems from previous work, and the current design represents another level of refinement and progress that has evolved from that work. But in many other instances, I find myself reacting to what I view as an outside prompt. And depending on your perspective, just about anything can be regarded as a prompt if you want it to be. An interior designer recently asked if I offer a 24-in. round end table. I instinctively said, "Yes, I have a concept in mind … please stand by while I work on the prototype."
Putting it into action
That exchange led to the purchase of the Shaper Origin. The Kidwell Fabrications studio is only a two-person space, and we do not have room for a traditional CNC of any size. But the small footprint of the Origin allows me to take the CNC machining process to the piece, and acquiring one suddenly made my new round table concept attainable. I used the Origin just about everywhere on the Ghent table. It created the plywood forms for the bent leg laminations, which need an interior and exterior radius to match the 24-in.-diameter top. It cut the round top with notches for three legs and machined the scooped rim profile around the perimeter of the top. The Origin cut the geometry on the tops of each leg (essentially tenons) where they must nest perfectly into the notched round top. It machined the triangular component connecting all the lower stretchers as well as their corresponding mortises and tenons. And it easily cut the mortise and tenons for the exposed joinery on the outsides of the legs.
Some things are worth investing in
In other words, I could not have attempted or achieved this table design without using the technology available to me. This sentiment goes beyond the assumption that, if given enough time and effort, I could eventually achieve the same results using other methods. No, I mean I literally could not make the Ghent design without the Origin, let alone build it in a duration that is profitable. So for this latest project, it was a handheld CNC router, and before that it was the Pantorouter. Then there was the Minimax T124 copy lathe, which came into the shop sometime after purchasing a Euro-style slider saw, and so on. In my experience, some of the most consequential design breakthroughs have coincided with investments in more sophisticated machines.
The balance between technology and craftsmanship
In some circles of the woodworking community, there can be a palpable resistance to the role of technology and advanced tooling because it usually circumvents traditional methods for making objects. The implication is that this erodes the craft and takes the human hand further and further away from preserving the woodworking tradition. But if my commitment is to excellent, high quality design and selling that work for a living, I must prioritize whatever methods will allow us to get the results we need with a level of efficiency and execution that is consistently profitable. In this way, I genuinely believe the tooling and methods we use in the Kidwell Fabrications studio serve to preserve the craft of furniture making by enabling me to sell our work without compromising on design or quality.
On to the next piece!
Kyle can be found on both Instagram and kidwellfabrications.com.
Sign up for eletters today and get the latest techniques and how-to from Fine Woodworking, plus special offers.